dernière modification : 2010-12-19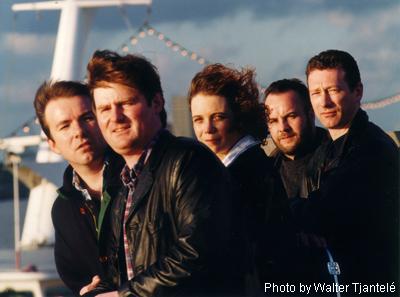 Based in Belgium and signed to the Belgian label Wild Boar Music, five members of Shantalla are Irish, while singer Helen Flaherty is Scottish. The band's debut CD, 'Shantalla', was released in Europe in late 1998. On its release worldwide on the Green Linnet label in February 2000, it went straight into the US Celtic radio playlist chart at No.2, remaining in the Top 10 for over 6 months.
The Irish Voice (USA) said: « I'm not sure how the band's members, all of whom hail from Ireland or Scotland, ended up in the land of mussels, frites and lethally strong beer, but on the strength of this recording Shantalla has to be rated the top traditional band on the Continent. »
The band's second CD 'Seven Evenings, Seven Mornings' was released in Europe at the end of 2001. The album featured more self-composed material and contemporary songs as well as traditional Irish and Scottish songs and tunes. Reviews of 'Seven Evenings Seven Mornings' were just as good as those of 'Shantalla', with many critics saying it confirmed the band's arrival as a major force on the international Celtic music scene.
Shantalla has performed regularly around Europe and the band has shared stages in double bills and festivals with the likes of Altan, Dervish, Lunasa, Liam O'Flynn, Sharon Shannon, Niamh Parsons, Sean Keane, Dave Munnelly, Jim McCann and many more.
In October 2005, the band took a break from performing to pursue other projects.
Due to public demand, Shantalla returned to the stage with a reunion tour in December 2009. They are working on a new album due for release in 2011.
• Contact : voir le site http://www.shantalla.eu
• mise à jour : novembre 2005
• Répertoire : irlandais/écossais
• Prestations : concerts, festivals
• Date de création : 1997
• Discographie : « Shantalla » (WBM 21004,1998), « Seven evenings, seven mornings » (WBM21030, 2001)
• Vidéo : l'Ancienne Belgique, avril 1999
• Musiciens :
Kieran Fahy : violon, alto
Helen Flaherty : chant, bodhran
Joe Hennon : guitare
Michael Horgan : uilleann pipes, flûte
Gerry Murray : accordéon, bouzouki, flûtes, mandoline